Peak Hurricane Season
8/13/2019 (Permalink)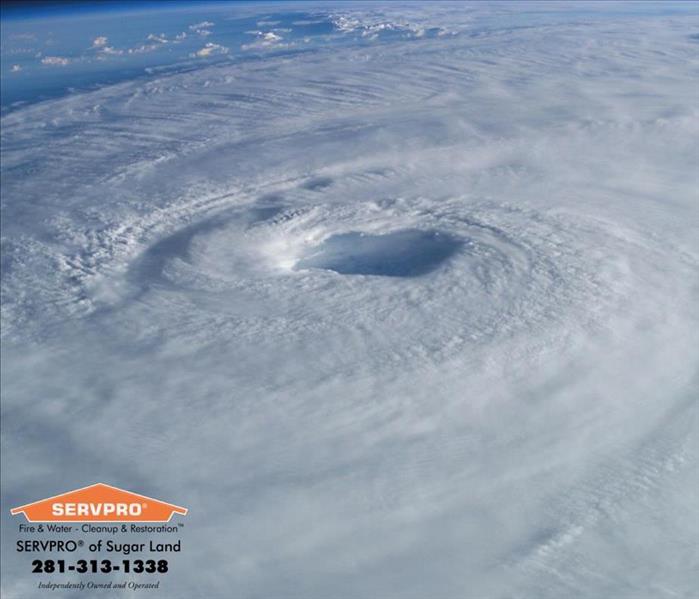 It is the peak of hurricane season. Although there has been very little hurricane activity, it never hurts to be prepared. Every business and residence should have a plan prepared just in case such an event was to happen. SERVPRO of Sugar Land is here to help you understand the different hurricane categories there are. Understanding the categories of a hurricane can help you be prepared:
Hurricane Categories
The Saffir-Simpson Hurricane Scale rates a hurricane's intensity using wind speed and storm surge, which is the abnormal rise in sea level accompanying a hurricane or other intense storm. The scale also estimates the potential damage and flooding expected along the coast from a hurricane landfall.
Category 1
Sustained winds of 74-85 mph. Dangerous winds occur and may cause some damage. Damage primarily to unanchored mobile homes, shrubbery, and trees along with some coastal road flooding and minor pier damage.

Category 2
Winds of 96-110 mph. Extremely dangerous winds and will cause extensive damage. Roofing, door and window damage to buildings; Considerable damage to shrubbery and trees, mobile homes, poorly constructed signs, and piers.

Category 3
Devastating damage will occur. Winds of 111-129 mph. Structural damage to small residences and utility buildings; foliage is blown off trees and large trees blown down; mobile homes destroyed.

Category 4
Catastrophic damage occurs. Sustained winds of 130 - 156 mph. Extensive damage to doors, windows and lower floors of shoreline houses; total roof failures on small residences; shrubs, trees, and all signs blown down; mobile homes completely destroyed.

Category 5
Catastrophic damage occurs. Winds of 157 mph or higher. Complete roof failure on many buildings and some complete building failures with small utility buildings blown over or away; severe and extensive window and door damage; mobile homes completely destroyed.